Who Are The Mennonites?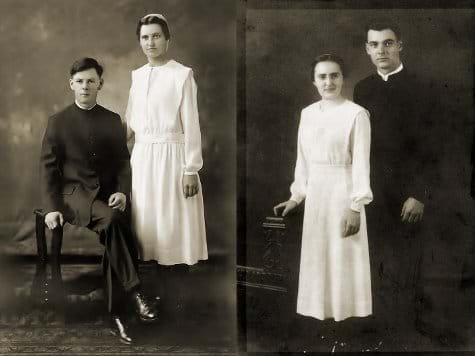 I am a Christian and I am a Mennonite. I was raised by Mennonite parents in Mennonite churches. Many would say that I am an ethnic Mennonite, meaning that my biological family can trace their family roots to where the Mennonite church began in Europe in the 1500s. In fact, the two wedding pictures on the main page are my grandparents. I included these pictures because the style of dress is usually what most people think of when they hear the word "Mennonite."
But I am also a Mennonite by choice. I choose to follow Mennonite beliefs and practices as a representative of what I believe it means to be a Christian, a follower of Christ. I am an active member of Stephen's City Mennonite Church in Stephen's City, VA.
The following information on Mennonites was taken from the "Who are the Mennonites?" brochure put out by Mennonite Church USA.
Mennonites have been around for almost 500 years. They began as a movement that insisted no one is born into the church. Instead, Mennonites believe the church is a community of believers who choose to turn over their lives to Jesus Christ and be baptized to symbolize that commitment. Together, we strive to live out a new way of life in which Jesus is Lord above all nationalism, materialism or any selfish pursuit.
Mennonites often are associated with the Old Order Mennonites and Amish, who still attempt to live simply in farming communities without the benefit of electrical power and automobiles. However, most Mennonites don't live this way. We make full use of technology and dress like most everyone else. You'll find vibrant and growing Mennonite congregations everywhere, from small towns and cities to nearly every major urban center in North America.
We believe that Jesus is the full embodiment of God's love, sent to bring reconciliation to a broken world. We believe the Bible is inspired by God and is central to our faith and living out God's will. We believe that God offers grace and forgiveness to humankind based on genuine faith instead of goodness. As a part of our faith, Mennonites value service to those in need over the pursuit of wealth, fame, or power.
Mennonites perhaps are best known for our commitment to nonviolence and peacemaking. Jesus taught his disciples to love their enemies and respond to aggression with positive action. He also taught us to follow him. We believe God defeats evil with sacrificial and unconditional love and see peacebuilding as an achievable way of life.
Mennonites believe we gain strength from the presence of God's Spirit as we come together in community. Mennonites believe discipleship is a shared journey. We strive to live out Jesus' way together. Our congregations provide communities of shared worship, support and accountability. Mennonite congregations are like caring families, and visitors are always welcome.
Did you know that anyone can become a Mennonite? You may be surprised if you came to visit our church in Stephen's City, VA. You will discover that we come from many different backgrounds but we all worship the same Lord Jesus Christ. Check out one of the links below.
Links: