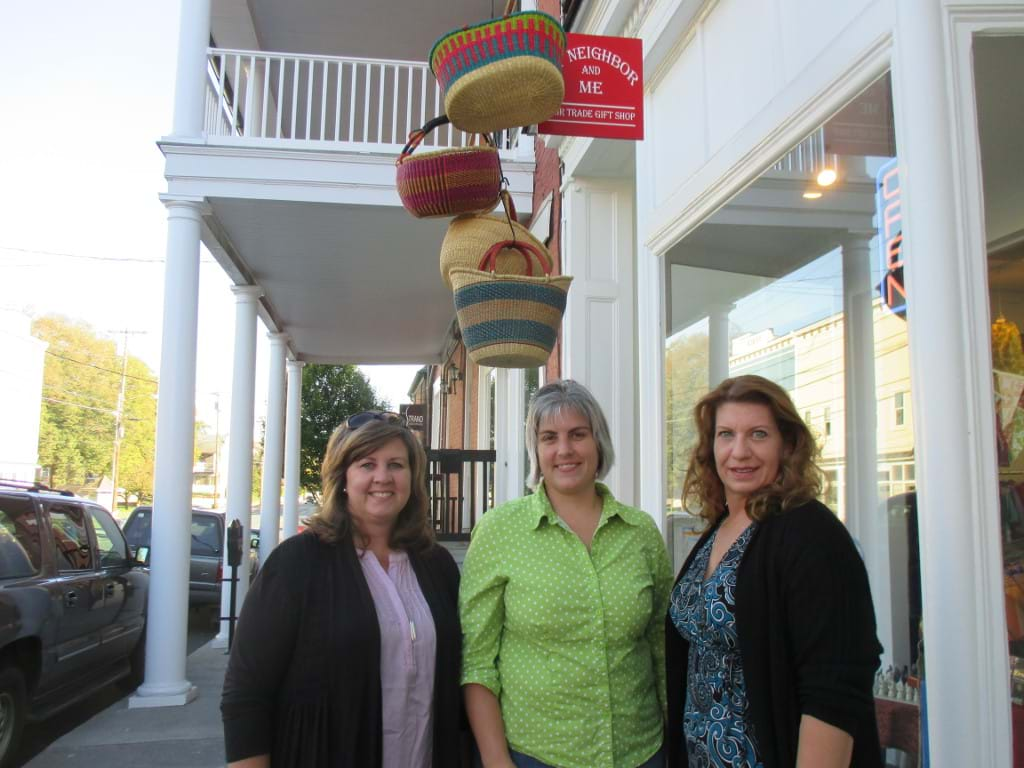 Christina Kraybill
Daughter of Warren and Linda Tyson of Brownstown PA, I shared an enriching childhood with three younger siblings. After graduation from Eastern Mennonite High School, a touring choir trip to Germany gave me a yearning to return to Europe. Before starting college, I experienced a life changing experience while serving one year as a member of the Germany YES team with Eastern Mennonite Missions. During my young adult years, I earned a BA in Sociology with a Business Management minor from Millersville University part-time while working full-time for Staples. In my final year of college, I accepted a position at York Rescue Mission as the director of Women's Ministry during which time I met my husband. Currently I make my home in Berryville VA with my husband, Eugene and our cat, Kitty. We relocated from Pennsylvania in 2008 in order to be closer to the Washington Dulles airport where Eugene works as an airline pilot. Besides operating this business, I volunteer as an assistant airport chaplain at Washington Dulles Airport ( Metropolitan Washington Airports Interfaith Chapels ). My husband and I are active members of the Mennonite church. I really enjoy vegetable gardening, reading, exploring with Eugene, baking bread, watching birds, and visiting our family.
Wendy
Wendy, a native of Loudoun County, and her husband, Joe, moved to Clarke County in 2004. They love raising their three daughters in the Shenandoah Valley. Wendy has been homeschooling for the last 11 years. Her hobbies include traveling, reading, cooking, and creative documentation. "I've been a customer since My Neighbor and Me was on First Street. I love the concept of fair trade and seeing the different items offered from around the world here in our quaint town of Berryville.
Bonnie
I was born to Marine parents on base at Quantico. I have been married to Mike for 26 years and have two children. Colleen is finishing graduate school at JMU and Clint is a freshman at Virginia Tech. We moved to Clarke County in August of 2001. I work for my husband's home improvement company part time doing all the accounting and other paperwork. Knowing that my son was leaving in the fall, I jumped on Christina's part time job offer. My Neighbor and Me is a wonderfully peaceful place to work and I get to meet so many interesting people. I would love to travel to all the places people visit here from.
Malissa
I was born and raised in Ohio, moving to the beautiful state of Virginia fourteen years ago. I met my significant other, Marty, a year after living here, and we've shared the last thirteen years together. We've recently purchased our first house in neighboring Jefferson county, West Virginia. Over the years, our family has grown; we shared our home with three cats, before having our son, who is now an amazing little two year old. He makes our hearts so full. And our newest addition, Odin, a German Shepherd! Before having our son, I was a retail manager for ten years. I'm happy to bring my expericence and creativity to, My Neighbor and Me. I feel blessed to work for a Fair Trade company that supports and empowers others; both internationally and locally. I enjoying spending time with my family, watching our son grow and experience life. Going on walks, hiking, fishing, and taking in the beautiful Clarke and Jefferson county scenery.
---
---
Contact Information:
tel: 540-955-8124
email: christina@myneighborandme.com
For more information, fill out this contact form.
---
Mission Statement
My Neighbor and Me LLC is a fair trade gift shop dedicated to selling hand-crafted goods created by marginalized producers of the Global South while providing a fun environment interacting with neighbors.
---
Vision Statement
My Neighbor and Me LLC will be a leader in new presentation standards for independent fair trade shops as well as providing new turn-around energy for specialty retail shops on Berryville's Main Street.
---
Guiding Values
People:Be a good neighbor by treating people with fairness and respect.
Planet:Be a good steward by recycling and reusing items when possible and reducing unnecessary needs.
Quality:Provide quality products as well as excellent customer service.
Creativity:Strive to continually think outside of the box and be willing to take risks within set boundaries.
Integrity:Be honest and fair in all business relationships.
God-Honoring:Donate 5% of gross sales to F.I.S.H. of Clarke County to recognize that we are called to care for the poor among us here in Clarke County.
---
Return Policy
If you are not completely satisfied with your My Neighbor and Me LLC purchase, please return the item(s), with original receipt, within 60 days to the Berryville VA gift shop. Items returned without a receipt will receive store credit.